Have you been trying to decide which direction your life should go?
Are you struggling with something and aren't sure what to do next?
If you've been looking for guidance about a situation in your life or simply a fresh perspective, you're in the right place.
While you're curious about having your cards read, you probably wonder what to expect when signing up for a card reading with me. I'm glad you're here, and I hope this page helps ease your mind.
I've been interpreting cards for 20 years, and I'm happy to report that I have never scared anyone! Unlike a psychic or fortune-teller, I don't speak to the dead or tell your future. I specialize in personal development, intuitive understanding, and spiritual growth. I prefer using the Cards of Alchemy (instead of tarot) because they offer clear action words, numbers, and symbols that connect with your intuition and guide your hopes and dreams.
Although the messages may be difficult, they are always for your highest good. Especially when life stings or a situation falls apart, it's a good idea to get a higher perspective on the truth and value of who you are. Life, and its challenges, can be incredibly complicated and sometimes, painful; I always interpret the card messages with compassion and kindness.
"What I love about Pam's card readings is that she always shows you the positive aspects – of even the hard things. She is a compassionate and gifted reader. If you haven't had the pleasure, do it. You will be glad you did. I always walk away feeling better about myself. Pam pours into you with every card she pulls."

Lisa McAnally
What to expect
You can look forward to a very personalized experience. Every reading is private and unique to your situation. However, if you want someone to join you, I'm happy to accommodate couples.
If you're like most of my clients, you're looking for clarity and light on your path forward. You may be going through a significant life change like a break-up, moving house, or losing a job. You may struggle to find the right words to express what you've been going through and probably feel stressed out.
Good news! Signing up for an oracle card reading helps you move forward in the best possible direction.
The Cards of Alchemy show your life broken down into the elements of love, health, wealth, power, and protection. The action words and symbols also communicate the steps and stages of your spiritual development, allowing you to arrive at your truth. Including hints from numerology, stories from mythology, and messages from my vast collection of oracle decks, you can look forward to a better understanding of yourself and what you need to create a life worth living.
We can't change the past, but we can influence the future. Let's make it a good one.
""I really enjoyed my reading by Pam. The alchemy cards she used were different from any other reading I've had in the past. It gave me a positive outlook on where I am at in my life and where I can focus to continue self growth. Her energy is vibrant, passionate and healing. I will be back to get another reading from her."

Debbie Bruening
The choice is yours.
You can choose your reading depending on what you want to know.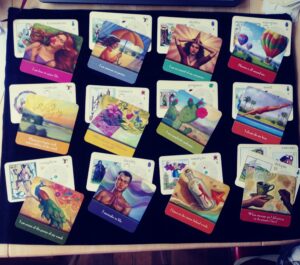 The four card reading offers: 1) Hopes for the future, 2) What you feel is holding you back, 3) Your ideal future 4) Your actual future. (Takes 15 – 30 minutes)
The five-card reading offers: 1) The inner you without any masks you may wear 2) Your higher self 3) Secret Desires and needs 4) Regrets for missed opportunities 5) The final outcome with the present forces. (Takes 30 minutes)
The seven-card reading offers: 1) Events coming to an end 2) Events coming into play 3) Hopes and fears 4) Your inner strength 5) Positive energies around you 6) Negative energies around you 7) The final outcome (Takes 60 minutes)
Special
During December and January, I also offer the 12-card reading with offers action words and intentions for each month of the year ahead. (Takes 60 minutes)
"Pam, thank you for the cards and your magic, you have the most unique gift of insight and inspiration. I just love what you do.  Thank you…. That was incredible."

Stephanie Freed
Something different
You won't find anyone else who reads cards this way. Using the Cards of Alchemy as the foundation of the reading, we'll include messages from some of my other decks, giving you the most profound and fulfilling experience possible. You will be amazed and delighted to see a specific message; sometimes, a theme develops, giving you a clear idea of what you need to do next.
I also offer coaching and worksheets if you're looking for a deeper understanding of yourself and your situation. Using oracle cards, the You're the Boat analogy, and practicing creative arts, my clients find clarity, hope, and gratitude as they step into their next adventure.
"Things have been totally hectic lately with people and work and stuff. I've been looking for some guidance to make sure I'm doing the right things and I'm on the right track. Having you read my cards totally helped me look inside at who I am, to figure out my direction and where I want to go. I'm feeling so much better now! Instead of being worried about the future, I'm really looking forward to it!"

Emily Gade
A better understanding.
Every day, we choose our words and actions to create the masterpiece of our life experience. By stepping back, we can see areas that need healing and understanding of our motivations. When we need help, it's crucial to know who to call.
I recommend a therapist if you're looking to heal trauma or unpack childhood issues. You might consider seeing a counselor if you struggle with an unhealthy, damaging relationship.
You want to call me when
you've been through a transformative experience and have started to see yourself differently.
You need support and an objective listener to explore new avenues.
You're active in your mental and emotional health and determined to make positive changes.
Whether you're on a healing path, starting a new adventure, or going through a spiritual transformation, I'd love to discuss charting a course toward a life worth living.
"I LOVE Pam's Oracle card readings! I highly recommend you schedule one with her!"

Karin Starick
Contact me.
Call (248) 330-9569 to make an appointment to chat with me in person at Rochester Holistic Arts. I also offer virtual meetings via Zoom, Google Duo, and FB Messenger.
You can find me on Facebook, Instagram, LinkedIn, and now, finally, TikTok.
Call RHA at (248) 330-9569 or email me at Pambelding @ g mail dot com.
Thanks for stopping by. If you have more questions, please reach out and ask. I look forward to working with you and wish you all the best.
xoxo Pam