As I work on writing my new book, I will do card readings, but only on a limited basis. Please email me at pambelding @ gmail dot com, or reach out via social media. Continue reading the page for more information about what to expect.
To get the most up-to-date information, please sign up for my newsletter to get news directly to your email.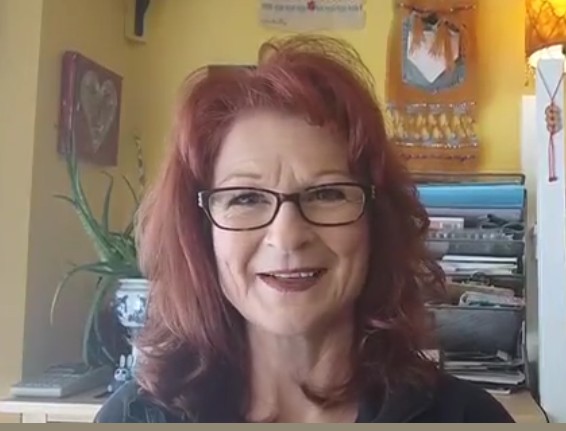 You probably wonder what to expect when signing up for a card reading with me.
For over 20 years, I've been interpreting cards, and I'm happy to report that I have never scared anyone! Unlike a psychic or fortune-teller, I don't speak to the dead or tell your future. I specialize in personal development, intuitive understanding, and spiritual growth using the Cards of Alchemy instead of tarot. They offer clear action words, numbers, and symbols that connect with your intuition and guide your hopes and dreams.
I began reading cards to combat the anxious voice in my head. My family and I were in the process of selling the house, cars, and most of what we owned to go live in Mexico. Overwhelmed and freaking out, I picked up a deck of Tarot cards to tap into my intuition and focus my actions. Years later, when my mother-in-law sent me the Cards of Alchemy, they felt familiar, like long-time friends. With over two dozen decks in my bag, they are still my favorite oracle.
Although the messages may be difficult, I assure you they are always for your highest good. Especially when life stings, or a situation falls apart, it helps to get a higher perspective on the truth and value you bring to the world. I always interpret the card messages with compassion and kindness.
"What I love about Pam's card readings is that she always shows you the positive aspects – of even the hard things. She is a compassionate and gifted reader. If you haven't had the pleasure, do it. You will be glad you did. I always walk away feeling better about myself. Pam pours into you with every card she pulls."

Lisa McAnally
What to expect
You can look forward to a very personalized experience. Every reading is private and unique to your situation. However, I can accommodate couples if you want someone to join you.
You may be going through a significant life change like a break-up, moving house, or losing a job. You may struggle to find the right words to express what you've been going through and probably feel stressed out.
Good news! Signing up for an Oracle card reading helps you see yourself more clearly so you can move forward in the best possible direction.
The Cards of Alchemy use suits of love, health, wealth, power, and protection. The action words and symbols also communicate the steps and stages of your spiritual development, allowing you to arrive at your truth. Including hints from numerology, stories from mythology, and messages from my vast collection of oracle decks, you can look forward to a deeper understanding of yourself and what you need to create a life worth living.
We can't change the past, but we can influence the future. Let's make it a good one.
""I really enjoyed my reading by Pam. The alchemy cards she used were different from any other reading I've had in the past. It gave me a positive outlook on where I am at in my life and where I can focus to continue self growth. Her energy is vibrant, passionate and healing. I will be back to get another reading from her."

Debbie Bruening
The choice is yours.
You can choose your reading depending on what you want to know.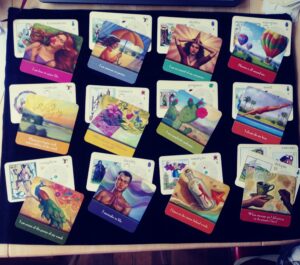 The four card reading offers:
1) Hopes for the future
2) What you feel is holding you back,
3) Your ideal future
4) Your actual future. (Takes 15 – 30 minutes)
The five-card reading offers:
1) The inner you without any masks you may wear
2) Your higher self
3) Secret Desires and needs
4) Regrets for missed opportunities
5) The final outcome with the present forces. (Takes 30 minutes)
The seven-card reading offers:
1) Events coming to an end
2) Events coming into play
3) Hopes and fears
4) Your inner strength
5) Positive energies around you
6) Negative energies around you
7) The final outcome (Takes 60 minutes)
The 12-card reading (perfect for the New Year or your birthday) offers action words and intentions for each month of the year ahead. (Takes 60 minutes)
"Pam, thank you for the cards and your magic, you have the most unique gift of insight and inspiration. I just love what you do. Thank you…. That was incredible."

Stephanie Freed
Something different
Using the Cards of Alchemy as the foundation of the reading, combined with messages from the other decks, you can expect the most profound and fulfilling experience possible. You will be amazed and delighted to see a specific message; sometimes, a theme develops, clarifying your next best move.
"Things have been totally hectic lately with people and work and stuff. I've been looking for some guidance to make sure I'm doing the right things and I'm on the right track. Having you read my cards totally helped me look inside at who I am, to figure out my direction and where I want to go. I'm feeling so much better now! Instead of being worried about the future, I'm really looking forward to it!"

Emily Gade
A better understanding.
When we need help, it's crucial to know who to call.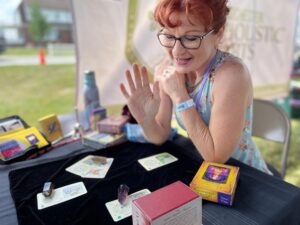 I recommend a therapist if you're looking to heal trauma or unpack childhood issues. You might consider seeing a counselor if you struggle with an unhealthy, damaging relationship.
You will want to call me when you've been thinking
I'm not the same person I was before. Who am I now?
I wish I could get a higher perspective and see the point of what I've been going through.
I'd love to discuss my next steps without feeling judged or overwhelmed.
I'm worried about the future. I could use a reminder of my power and influence.
Whether you're healing a complicated past, beginning a new adventure, or going through a spiritual transformation, I look forward to chatting with you.
"The reading and heart connection that you provided helped me begin to heal my heart and left me filled with authentic, raw, unconditional love. It helped me get centered and grounded back into what I know is true. I am so incredibly grateful! This reading allowed me to then hold space for others so they could do the same as I moved through my work over the remainder of the week. You helped me reconnect to ME! This reading helped me remember that tending to my work and daily life — those things that need doing — are ways of showing love and kindness to myself. A week later, and I can say that I've been feeling a TON better and actually have been able to focus and make progress. I am also referring a friend to you."

Charise Skovgaard-Spencer
Contact me.
I offer virtual meetings via Zoom, Google Duo, and FB Messenger. Email me at Pambelding @ g mail dot com to schedule an appointment.
You can find me on Facebook, Instagram, LinkedIn, and now, finally, TikTok. I post a weekly card reading on Instagram every Sunday morning to inspire good vibrations for the week ahead.
Thanks for stopping by. If you have more questions, please reach out and ask. I look forward to working with you and wish you all the best.
xoxo Pam