To create a life worth living.
Have you been thinking about boundaries?
Have you noticed yourself feeling resentful, taken advantage of, but unable to say no?
Do you feel responsible for other people's emotions?
Have you been abandoning your own needs to take care of everyone else?
With so many tasks and distractions on our plate, it's easy to feel like we're on a hamster wheel of responsibilities with no way to stop. Without firm boundaries and clear limits on our time and attention, we lack the handles we need to grab ahold of ourselves. Add in the drama of the world around us; it's no wonder we're feeling overwhelmed and anxious about the future.
Who are we? What's important to us? How do we create a life worth living? The first step to knowing how to protect ourselves is recognizing what is ours to begin with. That's why we need to learn our boundaries.
Physical
Material
Mental
Emotional
Sexual
Spiritual
Temporal
Virtual
Like the lines in a coloring book, knowing our boundaries allows us to step back from the stories going through our heads to see who we are and what's important to us. Boundaries clarify and direct our attention, allowing us to ground ourselves in the elements of reality. They help us focus on caring for ourselves and the people we love, improving and sustaining our relationships. When we know our boundaries, we can work toward creating a life worth living.
"Boundaries define us. They define what is me and what is not me. Knowing what I am to own and take responsibility for gives me freedom."

Dr. Henry Cloud
Boundaries classes are Saturday, September 10, October 8, and November 12, from 4:30 – 6:30 pm at Rochester Holistic Arts.
What boundaries?!
As kids, most of us learn to "be good," follow the rules, and everything will work out. Of course, eventually, we find out this isn't true, but without boundaries, we don't have the tools to recognize or defend ourselves. We have no choice but to look outside ourselves for feedback, waiting for someone else's permission, approval, or protection. Living at the mercy of other people's opinions, we lack confidence in ourselves and the future, causing anxiety, depression, stress, and unhealthy relationships.
Unfortunately, most of us blame ourselves for our struggles. We have a hard time asking for help, are afraid to show our flaws, and are worried about what other people will think. Perfectionism, people-pleasing, and feeling responsible for everyone else keep us going in circles, exhausted by the thought of the future.
Resentment eventually builds, taking us to some breaking point.
That's when we ask ourselves, "Why am I here?" or "How am I supposed to get through this?!"
Using what is "appropriate" to steer toward a life worth living.
"Attitude is like the rudder on a ship. As long as we keep our attitude adjusted 'appropriately', we can get where we need to go. But if it gets stuck, we just go in circles frustrating ourselves and everyone else around us."

You're the Boat: Charting a course toward a life worth looking forward to.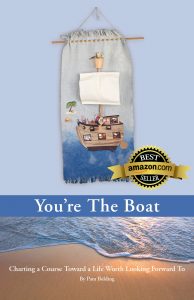 Every day we wake up telling ourselves the story of who we are and what matters to us. Typically, we exist somewhere between our bodies, thoughts, and emotions.
However, when we find ourselves stuck, lost, and frustrated, "going in circles," we need help to get a clear picture of what we're going through to get ourselves back on course.
That's why knowing our boundaries is essential. It allows us to simplify a complicated world and to focus on who we are and what's worthy of our attention. Instead of being distracted by the drama in the world and other people's energy, we can see the truth of ourselves more clearly, and, hopefully, with compassion.
You're not alone.
While I'm not a boundaries expert, I have a lifetime of experience managing anxiety and caring for my family. In 2012, I published the You're the Boat analogy and quickly realized I had missed a few things, including a complete understanding of my boundaries.
In the book, starting on pg. 36, I wrote the basics of what I learned about boundaries by asking online experts and friends. I condensed that knowledge into four steps and printed it as The Boundaries Cheat Sheet on the complimentary bookmark.
Start with the end result in mind.
Let everyone know what's happening.
Enforce the rules.
Be patient.
That seemed like a good start. However, I still felt lost, not understanding what was or wasn't mine. I read books, researched, and talked to many people who confirmed, like me, that they, too, wanted boundaries to learn how to reduce stress and build healthy relationships with friends and family.
Let's look at the details.
The world is unpredictable and overwhelming, beyond our control. However, I believe that when we focus on learning about ourselves and sharing our stories with honesty, understanding, and compassion, we develop confidence and connection. Two things the world desperately needs more of.
We begin this two-hour class with grounding exercises, including the Stretch. Then I introduce each boundary before we move on to fill out the "fun" sheets showing your priorities. We'll talk about the difference between judgment and discernment and the importance of white space when making decisions. We'll also discuss phrases that help you find the right words to set healthy boundaries. Most of our time is devoted to discussing real-life situations and finding resolutions.
Like Vegas, whatever we discuss in Boundaries class, stays between us. Expect to put your phone away on silent to honor the sacred space of our energy and conversations. You get out of this class what you bring to it.
You already know why you want to take this class.
Something is causing stress, pain, drama, or all of the above. You've probably been thinking about your energy and resources, seeking clarity, and figuring out how to ask for what you want. You're hoping to get on the same page with your people and resolve your differences to create a life worth living.
Fortunately, you already have the desire, focus, and hope for a better future working in your favor. Understanding your boundaries helps you share what you've learned with your loved ones and find opportunities for deep connections in your relationships. Living a happy, healthy life takes hard work and dedication over time. Taking this class is a good start in the right direction.
I highly recommend Boundaries & Protection and Goldmining the Shadows by Pixie Lighthorse. With one-page chapters, these books offer relatable advice and language prompts to inspire fruitful conversations with the people in your life. I love the guidance and compassionate wisdom in these books, and I highly recommend you pick them up, (This is not an affiliate link. I'm just a huge fan!)
Call (248) 330-9569 to reserve your spot for Boundaries Class or sign up online. You can also email me for details at pam Belding at g mail dot com.
"Attended an amazing class today. Do yourself a favor and sign up for Boundaries class at RHA. Pam's energy is so wonderful and amazing, you'll be glad you invested in yourself. I promise."

Margaret S.
How does it work?
My husband taught beginner snow skiing when he was in his 20s. He said it didn't take long to realize he couldn't tell his students, "Watch out for that tree!" Calling attention to the potential danger directed them straight toward their peril.
Our fears and worries do precisely the same thing. When we only focus on what's freaking us out, we steer in a circle convincing ourselves we're too small to fix the problem.
By paying attention to our boundaries and using love and strength to build the life we want to live, we focus on the power of our awareness and the energy of our desire to create a better life.
We all have time to work with. Bodies to carry us around. Thoughts to influence and emotions to sail upon. Our Captain may go by many names, but only the calling counts. By focusing on our priorities and taking care of ourselves, and the people we love, we can see the small, targeted changes that can drastically affect our future.
No one else can tell us what will make us happy. It's up to us to decide what a beautiful life looks like and then get busy making it happen.
"Let me start off by saying I LOVE this program! Within days, I used what I learned with Pam to confront someone who had been creating havoc in my life for years. The results were immediate and positive! Ever since then I've enjoyed an increase in my confidence and personal awareness. I even enjoyed doing the homework and worksheets because they helped me see my priorities and get my life organized. I would highly recommend this coaching program to anyone who wants to stop wasting their time and start taking control of their life."

Jill S.
You'll thank yourself.
Problems, fear, and drama aren't going away soon. If you're sick and tired of wasting your precious time, this class is for you!
Recognize the stories going through your head are not the truth.
Adjust your focus toward healing and healthy relationships.
Learn your eight boundaries to expand your awareness and see yourself more clearly.
Develop more confidence by taking care of what is yours and leaving behind everything else.
Use your priorities to steer your time and energy to defend your attention and create a life worth living.
Looking at the priorities within your boundaries, you build a path toward a happier existence for yourself and your Crew. Walking out of this class, you'll feel more confident and capable of getting what you need. With time and attention, you'll start feeling better fast.
If you've been asking yourself, "How am I supposed to get through this?!" this class is the answer.
Pam creates a safe space for getting unstuck and moving closer to my dreams. Her program opened my eyes to a new way of looking at how I take care of myself – or in my case, how I wasn't taking care of myself in two crucial ways! As a performing artist, it's important that I keep myself mentally, physically, and emotionally ready for whatever comes my way. Pam showed me (with love, of course), how I was "missing the boat" with my health and well-being. In just two hours, I came away with a new perspective, and specific tools to make a major course correction in my life and work. Without Pam's insights, it may have been years before I saw how I was neglecting my own needs – and ignoring my dreams in the process. Now, I'm ready to sail the high seas regardless of the storms that life may throw at me!

Lisa M.
Sign up now.
Join me on Saturday, September 10, October 8, and November 12 from 4:30 – 6:30 pm. The class price is $45 and includes the book, the worksheets, and plenty of time to discuss the benefits of wiggle room and values.
We meet three more times in the Garden Studio at Rochester Holistic Arts, and space is limited. Call now to reserve your spot at (248) 330-9569.