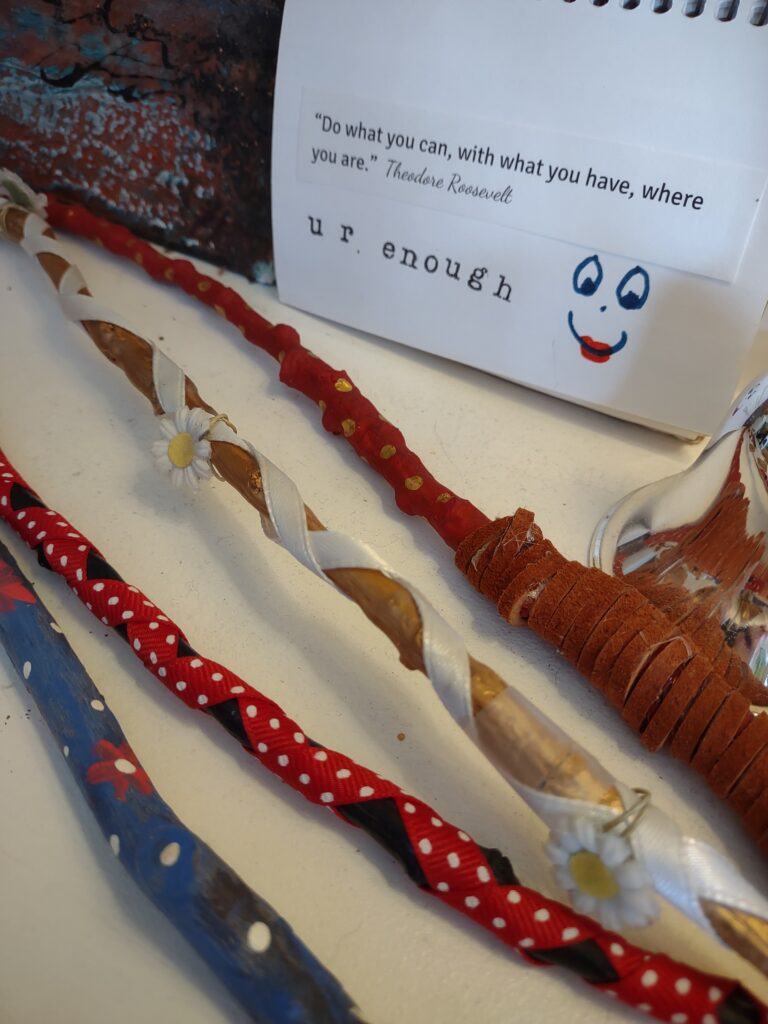 These workshops are very limited while I finish writing my new book, Happy Home, Healthy Life; Logic for charting a course to a life worth living. Please sign up for my newsletter to get updates directly to your email. Message me at Pam belding at gmail dot com for more information.
Exactly as it sounds, this workshop includes everything you need to build a magic wand and handbook. All you need to bring is the desire to be creative and have fun.
"Making my magic wand with Pam was a fun and creative outlet! If you're looking for a unique and creative activity I highly recommend this workshop! Attend solo or bring a friend(s) or family member(s). Great as a team building activity too!"

Celeste
No previous art experience is needed.
It's simple. Choose a stick, cover it with acrylic paint, dry it with a blow-dryer, and then choose from an extensive collection of ribbons, leather, or cotton cording to make the wand uniquely yours. Bring in stones, wire, etc., from home. In the meantime, keep your eye out for treasures. Attach things to your wand with Elmers or a hot glue gun.
I'm always there to lend a helping hand. This is my idea of Heaven on Earth.
When we put our minds together, opportunities to create and have a good time are endless.
Let's have a great time knowing we're making the world better.
Where does magic come from?
"At the deepest level, the creative process and the healing process arise from a single source. When you are an artist, you are a healer; a wordless trust of the same mystery is the foundation of your work and its integrity."

Rachel Remen M.D.
A magic wand is a physical reminder of our inner power.
Illustrated by my dear friend, Yvonne, seen here holding her wand, above a quote from the interwebs.
By crafting an ordinary stick into something beautiful, meaningful, and fun, making a magic wand offers a simple way to use our creativity and tap into our Source, accessing our spiritual boundaries for healing, joy, and deeper understanding.
I made my first wand to help me become a kinder mother and wife, and I'm proud to say it's served my family and me very well for the last twenty-two years.
The inspirational quotes within the Magic Wand Handbook offer hints of hope and possibilities.
"The good life is a process, not a state of being. It is a direction not a destination."

Chinese fortune
If you enjoy playing with scissors and a glue stick, you'll love cutting out inspirational quotes and pasting them onto the pages. I provide you with eight pages of quotes from people like Albert Einstein, Helen Keller, and Jim Henson, to name a few, and feel free to bring in selections of your own!
I highly encourage you to decorate the pages with markers and stamps. This is a chance to savor the creative process and enjoy every moment.
I also offer fancy paper to build the covers of your book. Again, feel free to bring anything you've been keeping around for such an occasion.
Keep this book close at hand on your desk, the shelf over the kitchen sink, or near the mirror in the bathroom while brushing your teeth because when you look for encouragement and support, your intentions conjure up juice and power to a life worth living. It's also a tool for mental health, the quotes offering a balm for the heart and food for the soul.
I'm excited to create more magic in the world and look forward to doing it with you!
xoxo Pam