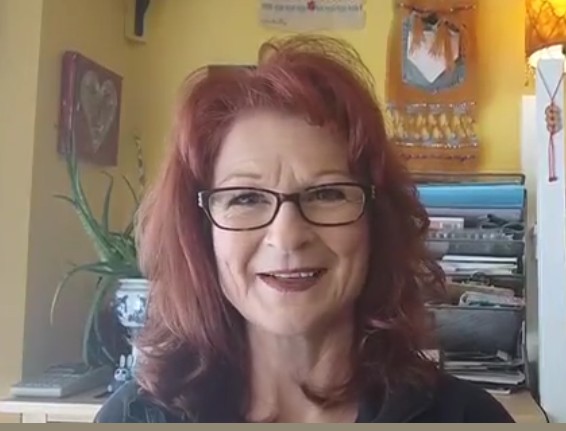 Hi, I'm Pam, and I'm delighted you're here.
Welcome to my website where you will find tools, ideas, and strategies for personal development and spiritual growth.
With years of experience managing anxiety and doing my best to be a good wife and mom, I developed an analogy that utilizes the different parts of a boat to describe the details of your life. By seeing life broken down into smaller pieces, you can see how making small, but targeted changes can drastically affect your future.
"Your attitude is a lot like the rudder on a ship. As long as you keep your attitude adjusted appropriately, you can get where you need to go, but if it gets stuck, you'll just go in circles, frustrating yourself and everyone else around you."

Pam Belding "You're the Boat: Charting a course toward a life worth living"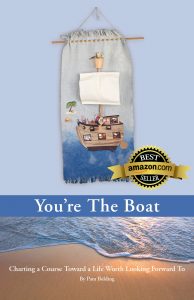 In 2012, I self-published "You're the Boat: Charting a course toward a life worth looking forward to." You'll love this book if you're interested in healing, spiritual growth, and deep personal awareness. Find it free in the library. You'll hear more about the analogy when you join me for the monthly Boundaries class at Rochester Holistic Arts.
I love making art and working with people to create something beautiful, fun, and meaningful. That's why I am offering the Creative Arts workshop. Click the link to learn more about Burlap Art, making beads, and the magic wand and handbook.
For the past 20 years, I have read oracle cards to help people see life from a higher perspective.
Tell me more about oracle cards.
Unlike a psychic, my main focus is healing, personal development, and spiritual growth. I am intuitive, working with the best intentions, offering guidance, hope, and connection to the Source.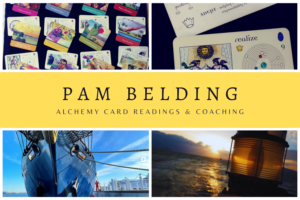 With support from many other oracle decks, I interpret the Cards of Alchemy. These are similar to Tarot in that they are both oracle cards. However, the cards of Alchemy don't have the devil, tower, or any upside-down cards. They are never scary! Where Tarot uses the suits of pentacles, swords, cups, and wands, Alchemy cards use the suits of love, health, wealth, power, and protection. With decades of experience, and a deep desire to help, I interpret each card's symbols, numbers, and action words to offer you inspiring messages of encouragement and hope. Read more by clicking here.
We can't change the past; we only influence the future. Let's make it a good one! You can contact me to set up a time to chat. Feel free to email me for details at pambelding at Gmail dot com.
"Pam is truly a positive light in this world. She's caring, thoughtful, and inspirational. Do yourself a favor and arrange a meeting with her. You'll be better for it. Your soul will thank you for it."

Dave McDonald
Just the facts, Ma'am.
Originally from the Central Valley of California, I live with my family in Ortonville, Michigan. I'm a devoted wife to Blake, a proud mom to Garrett, and a loyal servant to our cat, Daisy.
I'm an Aquarius, born in 1969; I love black coffee, dark chocolate, and being part of a happy home. My first job was as a referee at a Trap & Skeet Club. To get through college, I worked at an auto parts store. In 1992, I graduated from CSU Fresno with a degree in Liberal Studies. When our son was little, I stayed home and volunteered in my community when we weren't living in Brazil or Mexico.
I love cooking, working in the garden, practicing yoga, and hiking with Garrett. He's 22 years old and studying Health Sciences at Oakland University.
To create a beautiful life and relationships worth sharing.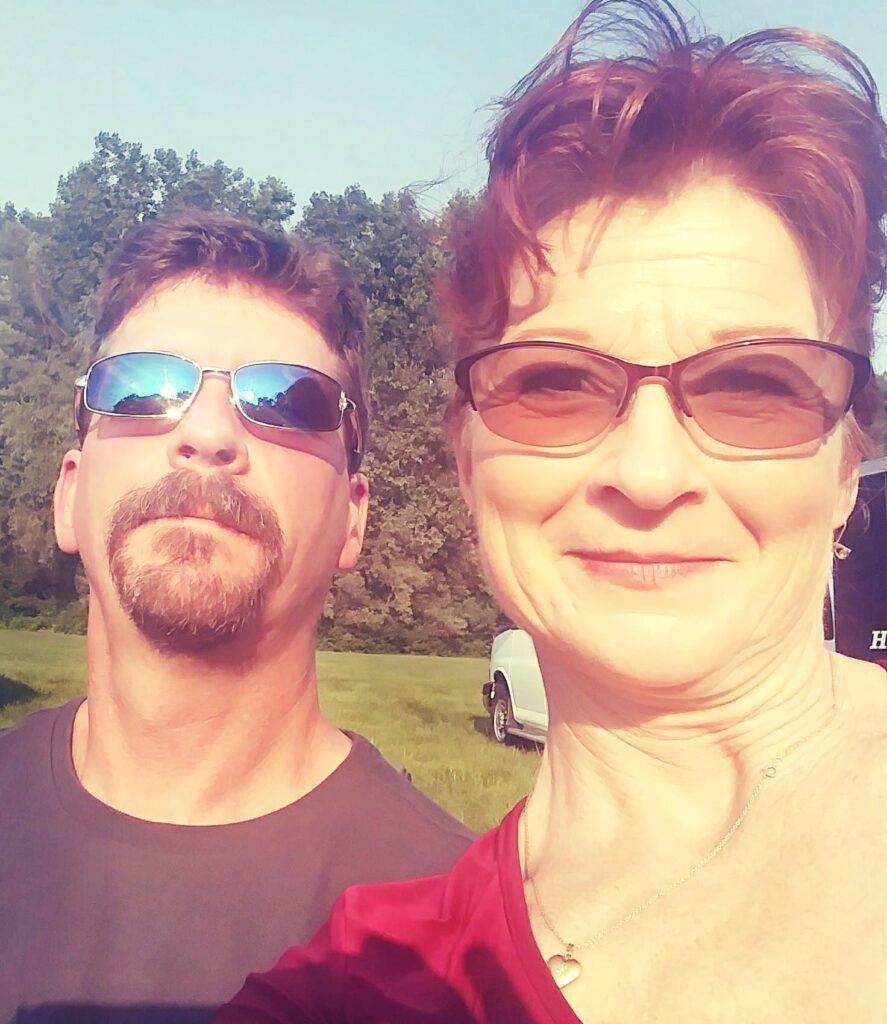 Diagnosed with Primary Progressive MS in 2012, my husband, Blake, retired in 2015. In 2019, I quit working at the Lake Orion DDA to stay home to ensure he gets the help he needs.
Now I do my best to balance my family life with following my dreams to create a beautiful life and relationships worth sharing by offering Alchemy card readings, coaching, the monthly Boundaries class, and the Creative Arts workshop.
I created this website to offer a place for people of all ages to find light, hope, and inspiration on the dark and stormy seas of the internet. By keeping this site clear of ads and distractions, we can all relax and find the calm our soul has been searching for.
I'm happy you're here, and I look forward to hearing from you.
Join me for the Stretch, a balancing/centering exercise that helps focus and stress management.
Go check out the library, workshops, and video pages. Find attitude adjusters, grounding meditations, and poems to spark your creativity.
Contact me
Find me at the Om Dome Yoga Studio in Clarkston, MI on Tuesdays from 1 – 5 pm.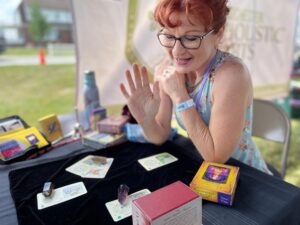 If you're interested in a card reading or learning more about classes or coaching, email me at Pam Belding (at) gmail.com or call the Om Dome at 248-534-3731.
I look forward to connecting with you if you're on social media! Please find me on Facebook, YouTube, LinkedIn, TikTok, and Instagram.
Don't forget to get updates about upcoming books and events by clicking here to sign up for my monthly-ish newsletter.
Out and about.
On Friday, October 14 we'll be making Magic Wands and the Magic Wand Handbook. As simple as painting a stick and wrapping it with a ribbon, making a magic wand is a physical expression of your inner power. The handbook includes using scissors, inspirational quotes, a glue stick, and color markers to create a beautiful reminder of the magic living within you! Everything is included for only $45. Sign up online using the Mind Body app or call 248-534-3731.
On Friday, October 28 join us for Magic & Brew! A brand new event, you'll enjoy a glorious evening filled with homemade seasonal goodies, fun, and Alchemy card readings. I'm planning to dress up as a good witch! You can wear whatever makes you happy. Tickets are $45 per person. Sign up online using the mind body app or call 248-534-3731. Times for the card readings are limited so sign up now! (message me @ pam Belding at Gmail dot com)