This post is part of my cornerstone content, written years ago, updated for today and still inspiring wisdom and deep understanding.
For the past 20 years, right after Thanksgiving, I start making about 50 eight-ounce boxes of English toffee and peanut brittle to send out to family and friends.
Using fresh ingredients and sticking to a well-practiced process, I sing along to Christmas music while standing in front of the oven and stirring for hours.
The most important ingredient I add is love.
Yes, that's right, I stir in love.
You see, the English Toffee takes 15 minutes of constant stirring and must be pulled from the heat at exactly 290 degrees Fahrenheit. For those 15 minutes, I keep the spoon moving steadily while thinking of the faces of all the happy people getting a box of candy. I imagine the squeals of delight when they open their mailbox, followed by joyful savoring of the first bite.
I love being a source of love and joy in the world. It's nice having fresh, delicious candy in the house for the holidays, too.
Now it's your turn.
Here's the recipe for those of you interested in making candy for yourself and your loved ones. Don't get discouraged if your first batches don't turn out perfect. Just keep trying, and soon you'll be spreading happiness and joy along with your gifts of candy!
*Make sure you use a heat-resistant (up to 500 degrees Fahrenheit) silicone spoonula to make these recipes. It's a little bit expensive (around $12) but absolutely necessary to make this safely.
*Use a sturdy 3-quart saucepan. The sides need to be tall enough to clip the thermometer on, and you need enough space to stir without slopping over the sides. Don't use a non-stick pot. The heat will kill it.
When Blake realized I was good at making the English Toffee, he asked me to start making peanut brittle. Although it takes twice as long, the process is the same, and it uses the same ingredients, so it wasn't difficult to incorporate this recipe into my ritual.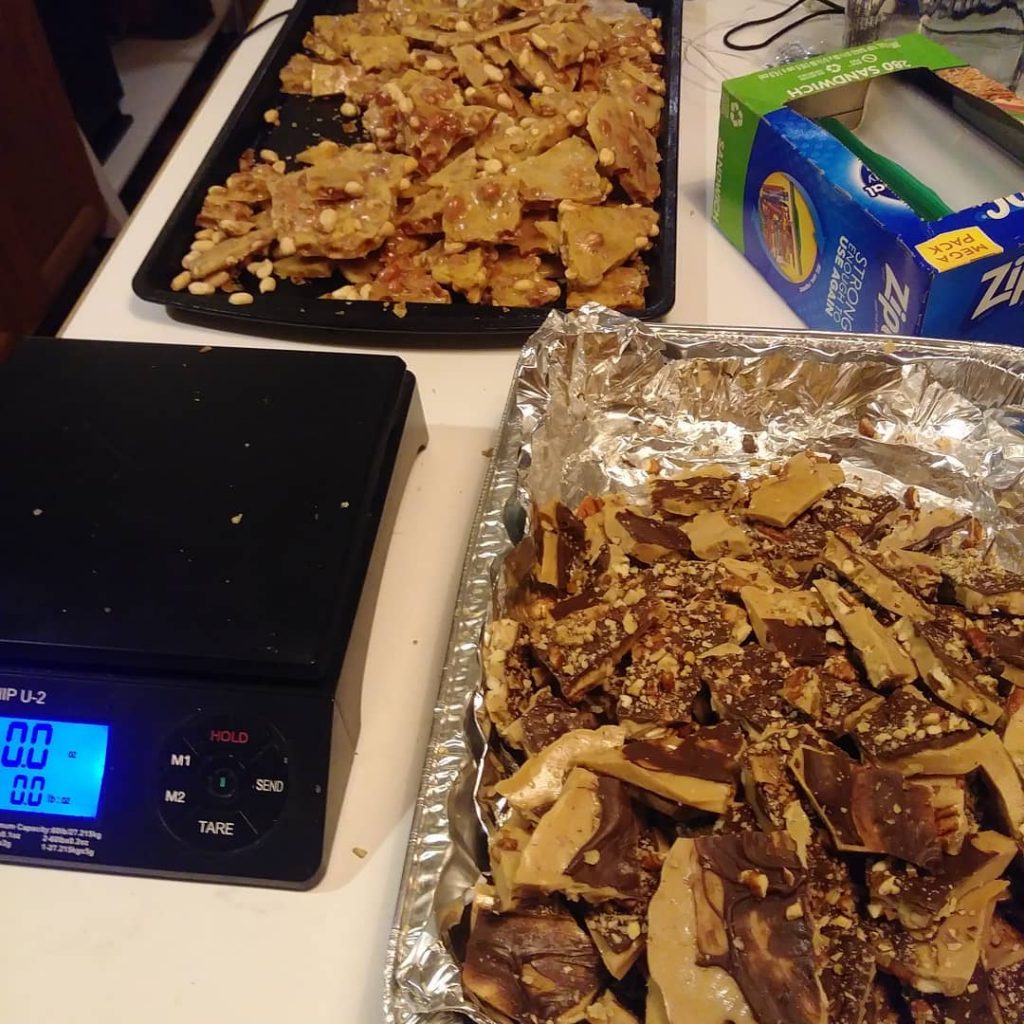 Nut Brittle
2 cups white sugar
1 cup light corn syrup
1/4 cup butter
2 1/2 cup raw peanuts
1 1/2 teaspoons baking soda, sifted.
Butter 2 large baking sheets; set aside. (sift baking soda and set aside). In a 3 qt saucepan melt butter and then add sugar, corn syrup, and 1/2 cup of water. Cook and stir over medium-high heat to boiling. Clip candy thermometer to the side of the pan. Cook and stir over medium-high heat to 275 degrees Fahrenheit (about 30 minutes). Add nuts; cook and stir to 295 degrees Fahrenheit (about 15 minutes more). Remove saucepan from heat; remove thermometer.
Quickly sprinkle soda over the mixture, stirring constantly. Immediately pour onto prepared sheets. Cook; break into pieces. Store tightly (Ziploc bags work fine) makes about 2 1/4 lbs.
Toffee Butter Crunch
1/2 cup coarsely chopped toasted pecans
1 cup butter
1 cup sugar
1 tablespoon light corn syrup
3/4 cup semisweet chocolate pieces
1/2 cup finely chopped toasted pecans
Line a 13x9x2-inch baking pan with foil, extending foil over edges. (I use the disposable aluminum ones from the grocery store). Sprinkle the 1/2 cup coarsely chopped nuts in the pan. In a saucepan, melt butter. Add sugar, corn syrup, and 3 tablespoons of water. Cook and stir over medium-high heat to boiling.
Clip your candy thermometer to the pan. Cook and stir over medium-high heat to 290 degrees Fahrenheit, soft-crack stage (about 15 minutes). Watch carefully after 280 degrees to prevent scorching. You only have a 30-second window to do this. If you don't cook it long enough, it won't be crispy. If you cook it too long, it will be greasy and scorched. Both results are disappointing.
Remove the saucepan from the heat; remove the thermometer. Pour mixture into prepared pan. Let stand 5 minutes or till firm; sprinkle with chocolate pieces. Let stand 1 to 2 minutes. When softened, spread chocolate over the mixture. Sprinkle with the finely chopped nuts. Chill till firm. Lift candy out of pan; break into pieces. Store tightly covered. Makes about 1 1/4 pounds.
Let me know if you made this and how it turned out! In the meantime, I wish you all a happy holiday season and all the best in the coming new year!
xoxo Pam