Have you been looking to do something fun and inspiring?
Do you enjoy being crafty? Do you like playing with colors and textures?
Would you like to make something beautiful, fun, and meaningful, a reminder of your creative power?
Sign up for the Creative Arts Workshop.
You can make a Magic Wand and Magic Wand Handbook or a piece of Burlap Art!
Our next workshop is on May 15, 2022, from noon to 4 pm. Space is limited. Call Rochester Holistic Arts at (248) 330-9569 to reserve your spot, or sign up online.
Bring your friends and let your creativity take you on an adventure beyond the stress and details of everyday life.
Would you like to bring this workshop into your space? If you are in the SouthEast Michigan area, message me, and we'll get something on the books.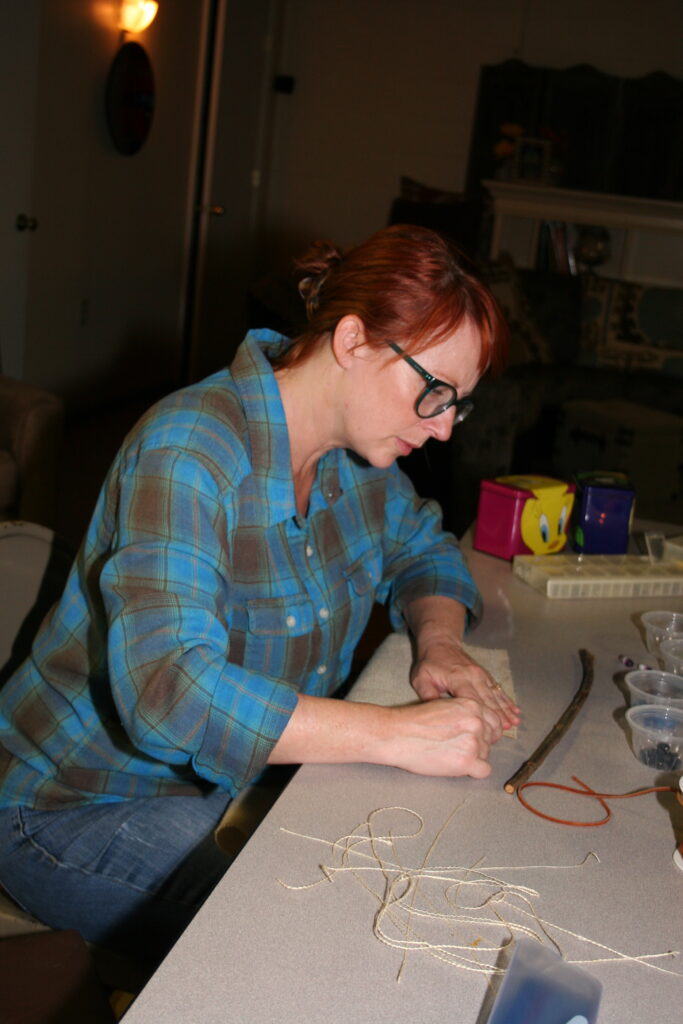 Burlap Art tells a story.
Making a piece of Burlap art is as easy as pulling strings and tying a knot. It's a great way to incorporate your treasures and souvenirs lying around waiting for you to do something cool with them. Think about a ribbon, belt, badge, pin, or old piece of jewelry that carries a special meaning. Bring it to the workshop and I'll show you how to weave it into your project and make it beautiful.
"Building burlap art is a very fun and relaxing process. Pam does a nice job showing us how to make beads and then incorporate them into the project. The whole process was soothing and a great way to spend the day. I really enjoyed the workshop and would highly recommend it to anyone else looking to relieve stress and feel creative. This is a very satisfying class."

Jill S.
At the workshop, you receive a piece of 12″ x 18″ burlap, a dowel, and a toothpick, along with simple instructions; counting and removing horizontal threads and tying together the verticals in a pattern. You can also add beads, paper, or ribbon. Feel free to bring your own or choose from my collection. Remember to include meaningful objects that you have lying around. Think about old belts, orphaned earrings, or feathers.
Sign up today!
Join us at Rochester Holistic Arts on May 15, 2022, from noon to 4 pm. To sign up, call 248-330-9569 or click here to sign up online.
Previous participants report having a great time removing strings, weaving in ribbons belts, and adding in beads.
"I love learning new crafts and Pam does a great job teaching them."

Ali
"I enjoyed the whole time. It was perfect."

Elsig
"My favorite part of the workshop was the many choices of materials and the patient instructions. My only suggestion would be More Time!!"

Celeste
The workshop offers you plenty of time to work on your creation, including bead-making using Sculpey clay. You can look forward to creating a piece of art that is distinctive and beautiful while clearing away stress and worry from your heart and mind.
Make your own magic wand & handbook.
Exactly as it sounds, this workshop includes everything you need to build a magic wand and handbook. All you need to bring is the desire to be creative and have fun.
"Making my magic wand with Pam was a fun and creative outlet! If you're looking for a unique and creative activity I highly recommend this workshop! Attend solo or bring a friend(s) or family member(s). Great as a team building activity too!"

Celeste P.
No previous art experience is needed. Choose a stick, cover it with acrylic paint, dry it with a blow-dryer and then choose from an extensive collection of ribbons, leather, or cotton cording to make the wand unique. The opportunities to create while having a good time are endless.
Where does magic come from?
Whether it's a piece of art or a healthy relationship, magic looks like taking creative action to love and support ourselves and our people.
Instead of wasting our precious energy and time worrying about fear of the unknown, we can tap into our Source and focus our power on creating something beautiful, meaningful, and unique, a life worth living.
"At the deepest level, the creative process and the healing process arise from a single source. When you are an artist, you are a healer; a wordless trust of the same mystery is the foundation of your work and its integrity."

Rachel Remen M.D.
If you enjoy playing with scissors and a glue stick, you'll love cutting out inspirational quotes and pasting them onto your handbook pages. Get eight pages of quotes from people like Albert Einstein, Helen Keller, and Jim Henson, to name a few. Feel free to bring in selections or write your own!
Decorate the pages of the handbook at your leisure. Using colored markers, pencils, and stamps to decorate each page, you get a fresh opportunity to express your creativity and tap into your intuition.
Available at Rochester Holistic Arts, the next workshop is on May 15, 2022, from noon to 4 pm. To sign up, call 248-330-9569 or sign up online by clicking here
"Creating art work allows your mind to be in a safe place while it contemplates the tougher issues you're dealing with. One can use the tools of brush, pain, pastels, crayons etc to expose and even for a short time color those issues in a different light."

George E. Miller
I look forward to seeing you at Rochester Holistic Arts on May 15 from noon to 4 pm! Or message me if you'd like to bring the Creative Arts Workshop into your space.
xoxo Pam
Here are some of my Burlap Art projects for inspiration.