Make your own magic wand & handbook.
Exactly as it sounds, this workshop includes everything you need to build a magic wand and handbook. All you need to bring is the desire to get crafty and have fun.
No previous art experience is needed. Choose a stick, cover it with your choice of acrylic paint, dry it with a blow-dryer and then choose from many ribbons, leather, or cotton cording to make the wand unique. The opportunities to create something beautiful while having a good time are endless.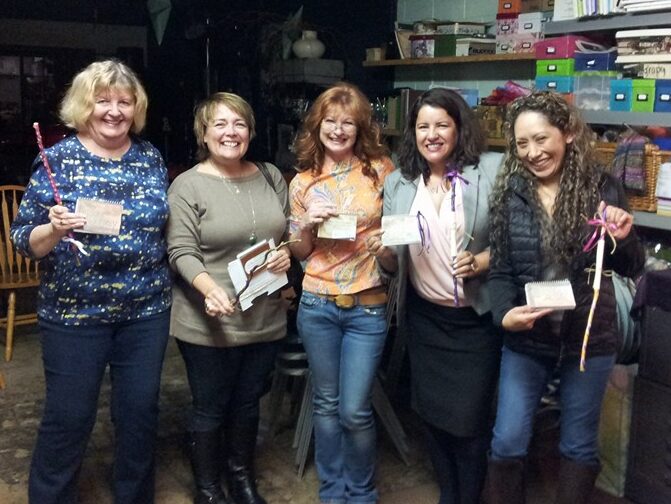 If you enjoy playing with scissors and a glue stick, you'll love cutting out inspirational quotes and pasting them onto the pages of your handbook. Get eight pages of quotes from people like Albert Einstein, Helen Keller, and Jim Henson, to name a few. Feel free to bring in quotes or write your own!
Decorate the pages of the handbook at your leisure. Using colored markers, pencils, and stamps, each page offers a fresh opportunity to express your creativity and tap into your intuition.
For ages 8 and up, this workshop takes about an hour.
Available at Rochester Holistic Arts starting in June 2021. To sign up, message me by clicking here.
Burlap Art
For those on a healing, or creative path, this workshop expands your ingenuity while grounding you into the details of numbers, color, and texture.
Receive a piece of burlap and simple instructions, including using a sewing needle, counting and removing horizontal threads and tying together the verticals in a pattern. You can also add beads, paper, or ribbon. Feel free to bring your own or choose from my collection. Include whatever found objects your imagination desires. Think about old belts, orphaned earrings, or feathers.
The process is highly satisfying and results typically range somewhere between distinctive and stunning.
Includes a dowel to weave along the top to hang up on your wall.
Introduction takes about 20 min. The workshop lasts 60. Regularly scheduled programs are being considered.
Available at Rochester Holistic Arts starting in June 2021. To sign up, click here to message me.