Did you ever have a time in your life when you felt overwhelmed and didn't know where to turn for help?
Are you curious about seeing your life through the four systems of a ship?
Have you ever wanted to help make the world a better place?
If you answered yes to any of these questions, I'm delighted you're here because I have, too.
Adjusting my rudder
In 2008, I was freaking out over homeschooling my son and moving our family to Brazil when I had a spiritual awakening. It came in the form of an analogy inspired when I asked no one in particular, "How am I supposed to get through this?!" The answer changed my life forever.
"You know, your attitude is a lot like the rudder on a ship. As long as you keep your attitude adjusted appropriately, you can get where you need to go. But if it gets stuck, you'll go in circles frustrating yourself and everyone else around you."

The Captain page 8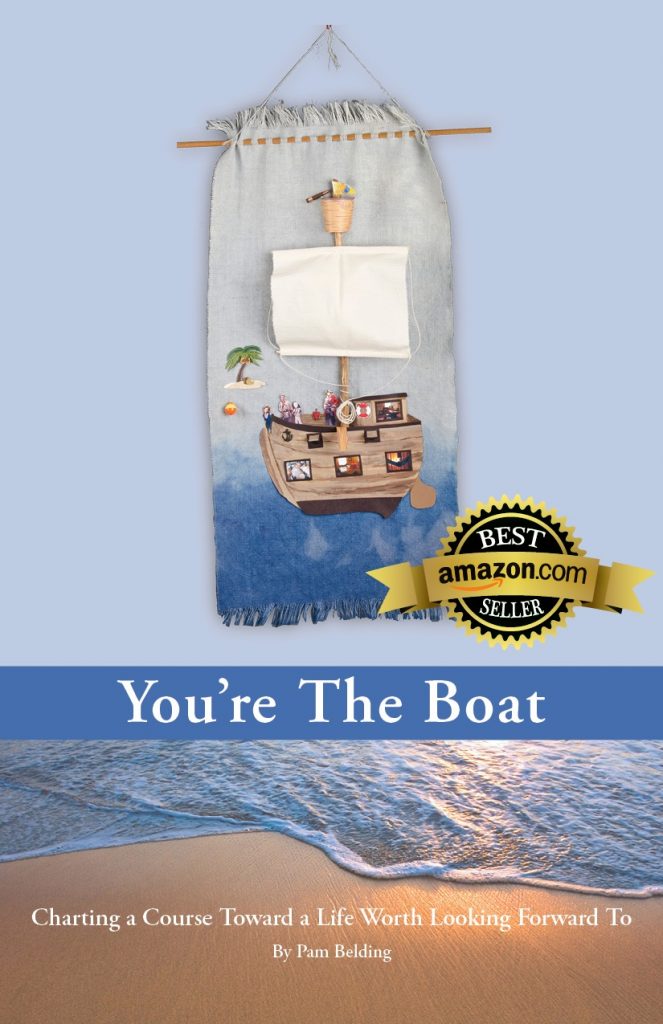 I started thinking about other parts of the Boat and what they represented. For the first time in months, I felt excited, curious, and hopeful, using my imagination to move beyond the anxious thoughts dominating my mind for most of my life. Instead of white-knuckling my way through fear and doubt, this analogy gave me a tool to start making the adjustments I needed to steer toward love and hope and focus on creating a happier, healthier life for myself and my crew.
While it didn't fix all of my problems, it did help me recognize and differentiate between my Captain, the Divine source of love and light that lives within me, and my Lizard, the ancient part of my brain trying to keep me "safe", scared, and quiet. Recognizing my "attitude is a lot like the rudder on a ship" means steering with these two on deck means life is never boring.
Over the years, after talking to people of all ages, more parts of the Boat have come to light. While I self-published the book, You're the Boat in 2012, just like life, the analogy is still, and always will be, a work in progress.
Doing the "great work."
Recognizing your true essence starts with looking at your stories to see yourself grow beyond them. That's why I wrote, You're the Boat, using the four systems of a ship; guidance, logistics, propulsion, and navigation. To expand the way we see ourselves. The guidance system reflects our thoughts, values, and stories of who we think we are and who we want to be. Logistics refers to taking care of and communicating with ourselves and our crew. The propulsion system looks at our Souls, including our strengths, motivation, and self-discipline. The navigation system focuses on what we're looking forward to.
We become more powerful by recognizing ourselves as larger than simply the thoughts going through our minds. Looking at our lives through the ship's four systems, we can expand beyond our struggles and focus on doing the "great work" of creating our life.
"The Great Work signifies the spiritual path towards self-transcendence in its entirety. This is the process of bringing unconscious complexes into the conscious awareness, in order to integrate them back into oneself"

Theresa Swan
I believe it is our purpose to transcend our circumstances and recognize our Souls through our gifts, passions, ideas, and relationships. We're here to expand, create, desire, and dream a beautiful life. We're here to bloom and offer our life through the gift of our presence.
I'm glad you're here.
I love deep conversations about personal/spiritual development and sharing the lessons this analogy has taught me. Although I admit to making some people roll their eyes, the fact is, this analogy can inspire people, whether they're feeling anxious and lost or simply interested in doing the "great work." Finding these people has been my challenge, my Captain's orders, guiding me to write books, talk to people, and build this website.
If you're interested in having a conversation about navigating through your challenges and charting a course toward a life worth looking forward to, I would LOVE to hear from you! Please leave a comment below, and I'll respond ASAP. Feel free to download the Boat book pdf while you're here. You'll find it in the library at the top of the page.
More to come
I'm currently working on the sequel to this book; You're the Boat Take 2: Fortify & Protect yourself, the Feed your Soul edition. It includes a deeper dive into your 8 boundaries and fortifying yourself with provisions, fun, and rest. Supported with worksheets and journal questions, this book includes new parts of the boat, including the Ship's Bell (the voice of the ship), the Wake (the legacy you leave behind), and the Lamps (the lights improving your visibility). There's even a chapter dedicated to filling your sails by answering the question, What are seven ways to feed your soul?
As the Bell on the ship of this website, I look forward to meeting more like-minded people and having inspiring conversations. By turning on the lights of this blog and sharing it on social media, I'm doing my best to create a legacy of inspiration, kindness, and hope out on the stormy seas of the internet.
I look forward to meeting you and hearing more about your ship's voyage, my friendly blog reader.
Have you ever had a spiritual awakening?
Have you ever read something that completely changed your perspective?
I would love to read about it in the comment below.
xoxo Pam
P.S. If you know of anyone else interested in joining in this conversation, please feel free to share this website with your friends and family.
P.P.S. You can also find me on social media at FaceBook and Instagram.
*You can download the pdf version of the Boat for free from the Library tab at the top of this page. If you would like it for your Kindle, you can find it for free on Amazon.
Testimonials
"The Boat is a tool we can carry without weight. …we can find our course and move forward toward a life worth looking forward to. Everyone can be helped with this."

Mary Kalocsay
"I read this book in one sitting and still read from it every day. The first line on the back cover says, "How am I supposed to get through this?" and I gotta say, people, how many of us can relate to that?! This ain't no wishy-washy self-help book. This is a field guide for the soul. Pam gives us true insight on how to get through our struggles and build on our strengths. I can tell this book comes from her heart, and that means so much in this crazy world."

Scot Valadez