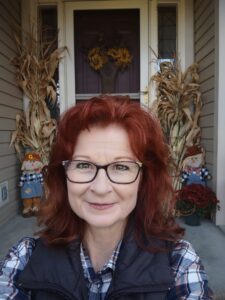 There's so much going on these days, and the seasonal responsibilities of autumn add even more items to the to-do list. My family and I have been busy winterizing the boat, cleaning gardens, and decorating the porch for Halloween. We researched candidates and filled out our absentee ballots. My darling husband has been busy researching new insurance and phone plans, and my wonderful son is super busy with school and work. Between making dinner, grocery shopping, doing laundry, and sweeping the floors, I've been pondering the best course of action to balance following my dreams while caring for my people.
Adjusting course
Last month, I decided to finish my time working at Rochester Holistic Arts. Although I loved everyone I worked with, the forty-minute drive to get there seemed a bit too much. The number of readings I did per week didn't justify the gas I used to get there; after two years, I needed a change.
Initially, I planned to continue working through the Om Dome in Clarkston, only 15 minutes from my door. With plenty of space for classes and card readings, it looked like a perfect fit. However, when the details started coming together, I realized working from home made more sense.
Every month, I fill out the Priorities worksheets I developed for the Boundaries class. After going through each of the eight boundaries (physical, material, mental, emotional, sexual, spiritual, temporal, and virtual), I could see the commitment needed to be a valuable partner to the Om Dome was more than I am willing to make.
Stick to the essentials
While I enjoy doing readings, classes, and workshops, my main priority is being a happily married partner and caregiver to my darling husband. When balancing my dreams with taking care of my responsibilities, time and freedom are my most valuable assets. Working from home is a gift of which I can take full advantage.
By the way, Blake is entirely supportive of my work. Although he doesn't always understand what I do, he's 100% behind my efforts to be a good influence in the world. With his help using the technology, I plan to offer the Boundaries class online for FREE in the coming weeks. I'll let you know how and when to sign up soon. (The next in-person class is at the Om Dome on November 12 from 4:30 – 6:30 pm. There is no cost. I'd love to see you there).
Connecting hearts through technology
It's easier than ever to offer Alchemy card readings via FB Messenger, ZOOM, and Google Duo. I did one last week for a friend of mine. It went so well that she offered a testimonial.
"The reading and heart connection that you provided helped me to begin to heal my heart and left me filled with authentic, raw, unconditional LOVE. It helped me get centered and grounded back into what I know is true. I am so incredibly grateful! This allowed me to then hold space for others so they could do the same as I moved through my work over the remainder of the week. You helped me reconnect to ME! This reading helped me remember that tending to my work and daily life — those things that need doing — are ways of showing love and kindness to myself. A week later and I've been feeling a TON better and actually been able to focus and make progress. I am also referring a friend to you!"

Charise Skovgaard-Spencer
I'm offering special pricing on card readings for November to celebrate this decision and get the word out. The world needs more heart connection, support, and inspiration! Tell your friends and family!
If you've been thinking about getting a card reading, but didn't want to pay full price, now is the time to book an appointment.
I'm also offering gift cards for 30-minute and 60-minute readings, valid for 12 months if you don't have time this month or want to give them to someone else as a gift. The holidays are coming, and these gift cards fit nicely into stockings.
Whether you need some light on your path or simply a gentle nudge of support, you'll love an Alchemy card reading with me.
Book your appointment soon. Time flies, and the price goes up starting December 1.
I look forward to hearing from you.
xoxo Pam
P.S. You can still book me to come and do readings at your gatherings in SouthEast Michigan. For parties of at least four to fifteen people, let me know ASAP so we can coordinate our calendars.