If you're like me, you've been feeling a bit overwhelmed by the state of affairs in the U.S. Every time I check my email or come across news about politics, climate change, social media, or the economy. It seems the world is on the brink of disaster. The media's goal is to create titillating click-worthy content. Finding happiness and joy amidst all the chatter is almost impossible.
Building a happy life requires us to keep trying!
Yes/And
It's easy sometimes to feel hopelessly overwhelmed, yet we all carry the dream of a life worth living within us. The trick is to keep moving forward, despite the distractions.
Yes, the voices of fear are loud and ugly, and, yet, we can only control our own. Sometimes, uncertainty about the future triggers fear and anxiety. The power of our Source always lights the next right steps along our path. Our assignment is to be mindful of our priority. Are we trying to be right, or be present? Are we looking for an excuse, or a reason to get back up? Starting with the energy of our intentions, we get to determine what's appropriate for creating joy and genuine connection.
To have a positive impact
Our relationships require lots of time and attention. Everyone needs dinner and clean clothes, no matter who and where we are. We get to decide the intentions we use to make it happen. Are we feeling rushed and resentful or grounded and grateful? Facing our responsibilities with grace (instead of grumbling) allows us to have a positive impact on the lives of people we love.
Of course, we can't make other people happy, however, each of us is responsible for our own attitude. Like making sure we eat so we don't become h-angry. Or taking rest when we feel exhausted. Letting ourselves play and have fun to build back our spirit. When we take care of ourselves, we can lead by example and also care for others. Together we can work toward building a life worth living.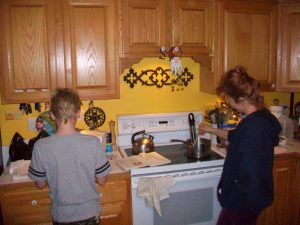 Yes, there's a lot to do. The problems of the world aren't going away. And, yet, by focusing our energy and intentions on creating a beautiful experience, we can look forward to feeling the pure joy of genuine connection. Like a recipe, the end result depends on the quality of ingredients. Good vibes build a happy life.
It's that time of year again
The holidays are a lot of work and they hold traditions to look forward to. (I'm getting ready to make my famous Christmas candy again). We can make things beautiful by decorating the house, putting up lights, singing carols, and writing Christmas cards (if that's even still a thing?)
Sometimes the holidays trigger anxiety, grief, or depression. While we can't stop people's pain, we can do our best to let them know we care. We can listen and just be there, without trying to fix them. There's a special kind of beauty in simply accepting someone as they are. Through it all, taking care of ourselves and serving the people we love gives us focus and purpose.
Good ripples
Coincidentally, we discussed this in the Boundaries class. We talked about the challenges we all face focusing our energy and intentions. We went over our priorities worksheets and shared our individual perspectives. For two hours, we enjoyed deep conversations and a round table discussion, sharing tales we could all relate to on some level. The vibes were incredible as we talked about real life with our phones on silent. It was a really lovely feeling to be tuned into each other, without distractions. By the end of the class, we decided to come back and do it again in January. (As soon as the link is available for sign-ups, I'll add it here).
This experience of pure joy and genuine connection is the reason I offer the Boundaries class. I crave that feeling of open-hearted vulnerability combined with hope and healing. I want my legacy to be creating a good ripple to combat the dark and stormy seas of life. By sharing what I'm learning and encouraging others to do the same, I hope to inspire everyone to reflect the love, light, joy, and harmony we all desire.
"Darkness cannot drive out darkness; only light can do that. Hate cannot drive out hate; only love can do that."

Martin Luther King
Let the good times roll
I want to offer the Boundaries class to as many people as possible. That's why I made it free. I'm planning to offer a virtual class, as soon as I get the tech figured out. Stay tuned for details.
The Alchemy card readings contain this wonderful feeling, too. Thanks to the November special, I've been exceptionally busy. The good vibes are flowing like hot cocoa on a snowing morning. Great God almighty, I love my job!
I'm also planning more in-person art workshops in the coming year. I'm working with the Giving Tree Collective in Oxford. Once the workshops are available, I'll let you know.
In the meantime, I hope you have a wonderful Thanksgiving holiday. I wish you and your family all the good feelings of pure joy and genuine connection.
xoxo Pam